License type and restrictions: TuneRelay is licensed on a per user basis, with lifetime validity. You may upgrade on up to 5 computers that you own personally.
After checkout is complete, a license key to unlock TuneRelay will be emailed to you instantly. If you do not receive your key within 20 minutes of checkout, please contact support@tunerelay.com.
Click here to learn How to unlock TuneRelay with a valid license.

US$ 9.99 &nbsp / &nbsp £ 7.99 &nbsp / &nbsp € 8.99



Special Bundle Offers
TuneRelay can be purchased at a discount with our other popular applications,

TuneAero
and
TuneBlade.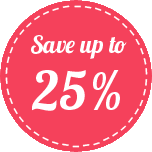 Visit store >>